Why Install Your Sauna Outdoors?
Escape the ordinary and immerse yourself in the extraordinary natural beauty of the great outdoors with a cabin sauna in your backyard. Imagine the soothing warmth of your barrel sauna, the relaxing enveloping steam, and the gentle crackling of wood as you unwind. Now, picture this serene experience amidst the tranquil surroundings of your mountain retreat. Installing a SaunaFin outdoor sauna can create a haven of relaxation with its harmonious blend of nature and health. Discover the captivating benefits of installing a SaunaFin outdoor sauna and unlock a delightful world of wellness by installing your sauna outdoors!
Escape to Nature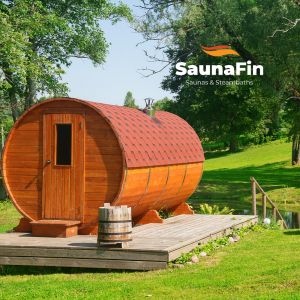 There is something truly magical about soaking in the healing effects of a barrel sauna while surrounded by nature. Install your sauna outdoors to create a tranquil bower away from the bustle and stress of everyday life. An outdoor sauna allows you to unwind and relax in the serene ambiance of your backyard. The sights and sounds of nature enhance your cabin sauna experience and provide a profound sense of relaxation. And what better way to cool off than an invigorating swim afterwards? If you don't have a pool nearby, indulge in a refreshing shower.
Enhance & Expand Your Living Space
An outdoor cabin or barrel sauna extends your living space beyond the confines of your home. If you don't have the luxury of a spare room or a large bathroom, install your cabin sauna outdoors. An outdoor cabin or barrel sauna is ideal for large families or smaller homes. Add a new dimension to your boring backyard with a blissful sauna oasis for rejuvenation and get-togethers. Make your cabin sauna sessions a delightful communal experience by enjoying them with family & friends.
Embrace Health & Wellness
The health benefits of sauna therapy are well-documented. Installing an outdoor cabin sauna amplifies these advantages. The soothing combination of heat, steam, and natural surroundings stimulates blood circulation, relaxes muscles, and enhances detoxification. Regular outdoor sauna sessions can help reduce stress, improve sleep patterns, alleviate pain, and enhance well-being. Ground yourself amidst the gentle breeze and enchanting landscapes of your outdoor sauna while embracing the invigorating rewards of sauna therapy.
Create an Aesthetic Design Feature
A home sauna adds a sense of luxury. Don't just place your outdoor cabin sauna anywhere in your backyard! Take time to create a unique design feature with a stunning outdoor sauna that reflects your tastes and creates a visually striking ambiance. SaunaFIn offers myriad outdoor sauna design options, from traditional wooden cabin saunas to sleek and classy cabin saunas that seamlessly blend with the natural surroundings. Whether you prefer a standalone sauna or one integrated into a larger outdoor living area, trust SaunaFin to design a backyard that perfectly suits your needs.
Year-Round Wellness & Fun
Outdoor saunas are designed to withstand inclement weather conditions so you can indulge in a therapeutic barrel sauna session throughout the year. Be it a chilly winter evening, a vibrant spring morning, or a warm summer night, your outdoor barrel sauna will be a delightful respite in any season. Combine a sauna season with an outdoor party with loved ones in the summer or spring to enjoy year-round wellness. Nature can be integral to your outdoor sauna routine, with the changing elements invigorating your body and soul.
SaunaFin Saunas: Where Tranquility Meets Luxury
Don't confine your cabin sauna experience to four walls when you can enjoy the enchantment of the outdoors. Installing your sauna outdoors is a compelling way to elevate your lifestyle and immerse yourself in the serenity of nature. Experience the blissful blend of wellness and nature with SaunaFin's outdoor cabin and barrel saunas. Indulge in fresh air, stunning vistas, and the healing power of sauna therapy with an outdoor sauna. Contact SaunaFin to transform your living space into a sanctuary of luxurious rejuvenation.