The Different Types Of Dundalk LeisureCraft Home Saunas
Posted in Home saunas, on December 06, 2021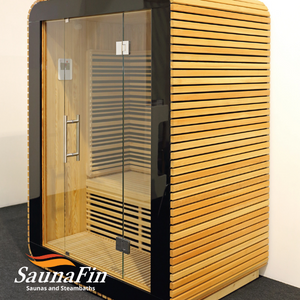 If you're in the market for a Dundalk Leisure Craft Sauna, you're probably aware of the many benefits of owning your own personal sauna. Not only are home saunas great for relaxing, but studies are reporting how they help lower stress, relieve pain, detoxify the body, and improve heart health. What's more, SaunaFin brings you a stunning variety of models; from the traditional barrel saunas to the ultra-modern Luna sauna, our saunas are the epitome of luxury and style. Read on for a sneak peek into the different types of Dundalk Leisure Craft Saunas you can treat yourself with!
Home Saunas:
Panoramic View Clear Cedar Barrel Sauna
This distinctive barrel sauna has a unique acrylic bubble back wall that offers a breathtaking view of the outside landscape. Spacious and comfortable, the panoramic view barrel sauna has 1 ½" red cedar boards and sturdy stainless steel hardware that makes it a valuable investment to enjoy for generations!
Outdoor Luna Sauna
The Luna sauna is the perfect blend of modern design and comfort that can add to the value and aesthetics of your home or cottage. Gently rounded corners, roomy interiors, and the aromatic beauty of Red Canadian Western Cedar take your home sauna experience to the next level! Ideal for outdoor entertaining next to pool, lakeside, or patio, the Luna sauna is an exciting invitation you cannot ignore.
Clear Cedar Pod Sauna
The newest sensation in outdoor saunas, these rain-drop-shaped saunas make for a dream sauna experience. Meticulous craftsmanship, extra headspace, and sublime designs make it an excellent backyard addition to enjoying the outdoors. The pod shape is ideal for the snowy north Canadian winters. Customize it with endless options to enjoy the ultimate bliss of your personal home sauna in a POD.
Mini Outdoor Pod Sauna
This mini version of the Pod sauna promises to elevate your urban backyard, cottage, or ski chalet to the next level. Handcrafted with red Canadian western cedar, this premium product comes with tempered glass windows and doors to enjoy the outdoor landscape.
Outdoor Cabin Sauna
The Dundalk Leisurecraft outdoor cabin sauna is your unique urban oasis with the comfort, convenience, and beauty of a classic barrel sauna in a cabin shape! The cabin sauna is an impressive blend of form and functionality; a perfect addition to your poolside, garden, deck, or backyard. Don't compromise on space or comfort; indulge in the ultimate sauna experience with our customized outdoor cabin saunas available in seven convenient sizes.
Indoor Cabin Saunas
Dundalk LeisureCraft indoor cabin saunas are designed to create your personal paradise within your home or hillside cottage. Red cedar wood hand construction with durable tongue and groove walls make our indoor cabin saunas a fusion of beauty, comfort, and efficiency. Stylish glass doors, top-tier materials, and a variety of sizes promise unparalleled healing and rejuvenation in the comfort of your home!
Dundalk LeisureCraft Saunas: A Sanctuary for Your Body & Soul
Handcrafted with beautiful Canadian red western cedar in a dazzling array of designs and sizes, Dundalk Leisurecraft saunas bring a spa-like sauna experience to your doorstep. Spoilt for choice? Contact the friendly team at Saunafin to help you choose your dream sauna that suits your style and needs. Get started on your sauna escape with SaunaFin, the leading manufacturer and retailer of gorgeous, handcrafted saunas and steam baths.