4 of the Best Outdoor Saunas of 2021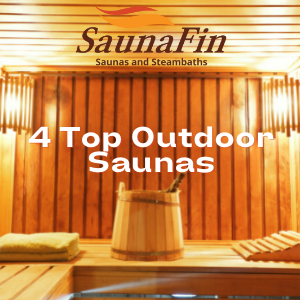 The best thing about having your very own indoor cabin sauna might be the convenience factor-- no trekking to the gym or the spa necessary. Indoor or outdoor saunas are a great way to unwind after a hectic day, and they release endorphins to help you relax and reinvigorate. The addition of an indoor or outdoor sauna will not only increase the value of your home. Sauna sessions have many health benefits so that you can feel great year-round. Reach out to the SaunaFin team to learn more about these benefits and how you could be on your way to owning a gorgeous, relaxing sauna.
Check out our helpful list for the best outdoor cabin saunas for the best prices!
Let a unique barrel design add some pizzazz to your home. The barrel sauna will comfortably fit between 4 to 6 people, so it's perfect for family and friends. The design of this particular sauna positions users facing each other, which allows for a more friendly experience.
This outdoor infrared sauna comes partially assembled, and you may require some additional professional help for set-up. Add some unique touches to make your experience even more luxurious-- add lush towels and robes, a bucket, a ladle, and rocks. If you have any questions about barrel saunas, please don't hesitate to call our experts at SaunaFin for more information.
2. The Cayenne Four Person Outdoor Sauna
The Cayenne Four Person Outdoor Sauna boasts many benefits, including its classic appearance. It comfortably seats four people, making it an ideal getaway. Built from durable and robust Canadian hemlock wood, the Cayenne Four Person Outdoor Sauna can withstand the harsh Canadian winters.
Built-in infrared technology dissipates heat evenly throughout this sauna while an oxygen iodization system purifies the air. This sauna is relatively easy to assemble and has a seven-year warranty.
3. Outdoor Sauna with Skylight Roof
What would be better than relaxing in your very own sauna while still having the ability to stare at the stars? We're hard-pressed to think of something more refreshing. Mostly prebuilt, you'll be enjoying this high-quality cedar in no time. Stones, a bucket, and a ladle are included.
Canadian Collection Pine Wood Barrel Sauna
Last but far from least is the Canadian Collection Pine Wood Barrel sauna. We've already mentioned the barrel shape's aesthetically pleasing features, but did you know this design allows for a porch area? This design is flat-packed, so be prepared to do some assembly. It has the whole sauna experience with a bucket, rocks, a ladle, and lava rocks. This sauna is compatible with wet and dry sauna sessions.
Now that you know our favourite sauna picks let us help you begin your journey to wellness and health. But which sauna to choose? Call the experts at SaunaFin to inquire about which type of sauna might be best for you! Start on your sauna journey today by reaching out to SaunaFin today for more details.