Buying a Sauna in Chicago: The Newest Trend
Posted on 28 October 2019
Chicago: the windy city.
As fall begins and we begin to look towards winter, it will only be a matter of time before we are huddled inside to escape the cold and snow. After a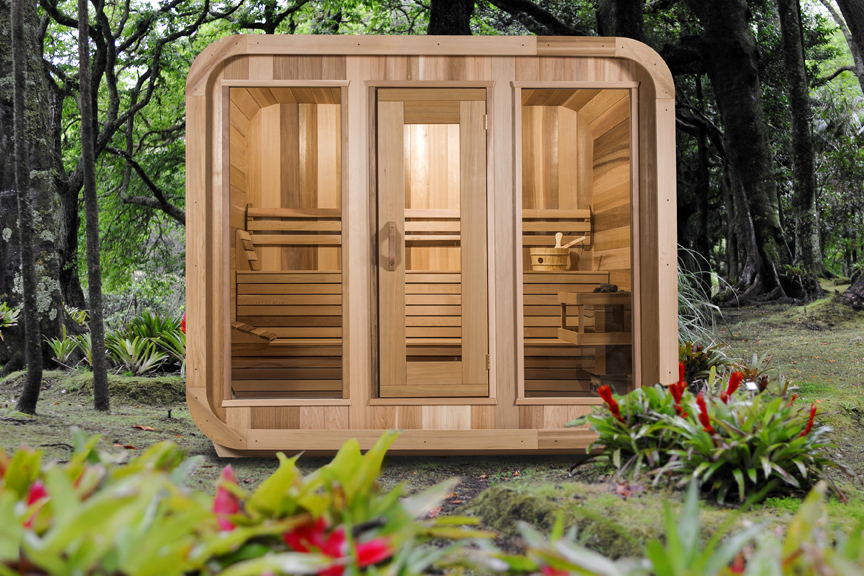 long day at work or skiing on the slopes, many people like to return home to a long, hot shower. Imagine if instead, you could return to an indoor sauna, allowing you to relax and unwind from the comfort of your own home.
The newest homeowner trend in Chicago is installing an indoor or outdoor sauna, allowing you to enjoy the warmth and relaxation of the sauna environment anytime. Although saunas may seem like a large and expensive luxury, options are available to fit almost any budget and room size. Whether you are looking to install a large sauna in your backyard or a cozy sauna in your master bathroom, SaunaFin can help you determine which model best suits your needs and provide you with everything you need to assemble your new sauna.
In this blog post, we are going to discuss some of the best sauna options for homes in the Chicago area.
Cabin PreFab (Indoor)
A stunning addition to any home in the Chicago area, this popular kit includes everything you need to build a sauna in the comfort of your master bathroom, basement or any room in your house. The overall design features clear, red cedar wood and is constructed with tongue and groove walls and dovetail joints to create an exceptionally durable finished product. Completely customizable, the PreFab Sauna Kit comes in eight different sizes to fit any room in your home and comfortably accommodate anywhere from 2-6 people. With a simple "Lincoln Log" assembly, you can build your sauna kit in 2-3 hours to begin enjoying the warm and relaxing environment right away. The kit is manufactured in Canada and it comes with assembled benches and a full-length tempered window door. With prices beginning at $4675, this is a popular model for first-time sauna owners.
Barrel Sauna
The simple, classic design of the barrel sauna seamlessly fits with the landscape of almost any backyard. With an outdoor barrel sauna, you will have access to a warm and relaxing oasis to unwind at the end of a long day or after a particularly grueling workout. The barrel design comes in either knotty or clear Western red cedar. The twelve available sizes allow you to find a sauna that fits almost any backyard space in the Chicago area. With prices starting at $4475, this is another great option to add a classic sauna experience to your backyard or outdoor living space.
Panoramic Barrel Sauna
The panoramic barrel sauna combines the classic barrel design with an acrylic bubble back to provide stunning views of your surrounding environment. Whether you are overlooking your backyard or admiring your landscape design, these stunning saunas provide a truly unique architectural addition to your outdoor living space. These one-of-a-kind saunas are exceptionally roomy, allowing you and your family and friends to relax and unwind together. Available in six sizes, these panoramic saunas are a popular choice both in Chicago and in the surrounding cottage areas. Starting at $8380, these beautiful saunas will be an impressive addition to your outdoor space for years to come!
Outdoor Cabin Sauna
The outdoor cabin sauna has a similar design to the indoor cabin prefab, featuring a "log" system that's easy to assemble. The durable finished product features a peaked roof and all-cedar design that adds a rustic and charming addition to any backyard space. The seven available sizes fit anywhere from 2-6 individuals, allowing you to truly maximize your available space. Prices for these beautiful cabin saunas begin at $5300 and are perfect for any Chicago backyard.
Pod Sauna
One of the trendiest sauna designs currently on the market is the Pod Sauna. These "raindrop" shaped saunas are gaining popularity in the Chicago area and feature an overall design that maximizes headspace without compromising on heat. The pod sauna comes in clear or knotty Western red cedar and your choice of either bevel or cedar shingles for siding. The eight available sizes make it easy to find a pod sauna that will fit in your backyard. Current prices start at $5160.
Luna Sauna
The Luna sauna is a modern and popular design in the Chicago area that features gently rounded corners and additional interior space. Made from Western red cedar, these sturdy saunas are a long-lasting addition to any backyard space. The front of the sauna features both a door and two floor-to-ceiling windows that allow ample natural light to enter the sauna. Available in six sizes, the Luna sauna can comfortably seat anywhere from 4-8 individuals. Prices for the Luna sauna begin at $7380.
As we look towards the snowy winter months ahead, an at-home sauna can provide the perfect oasis to relax and unwind after a long day out in the cold. At SaunaFin, we provide a wide range of sauna designs and sizes to fit any budget. Our sauna kits help simplify the building process to create a stunning and sturdy sauna in your home or backyard. The entire SaunaFin team are experts in sauna technology and design and are always happy to answer any questions.
If you want to learn more about purchasing and installing your own sauna, contact our friendly team at 1-800-387-7029. We can help you with every step of the process, ensuring you can order and build your sauna in a timely fashion. In addition to saunas, the SaunaFin team are also experts in steam baths and at-home spas. Whether you are looking to install an indoor or outdoor sauna or a steam bath, look no further than SaunaFin. There is not better time than today to start taking some time for yourself and creating a dedicated space to relax and unwind from the comfort of your own home.