Which Outdoor Sauna Should I Get?
Posted on 05 October 2020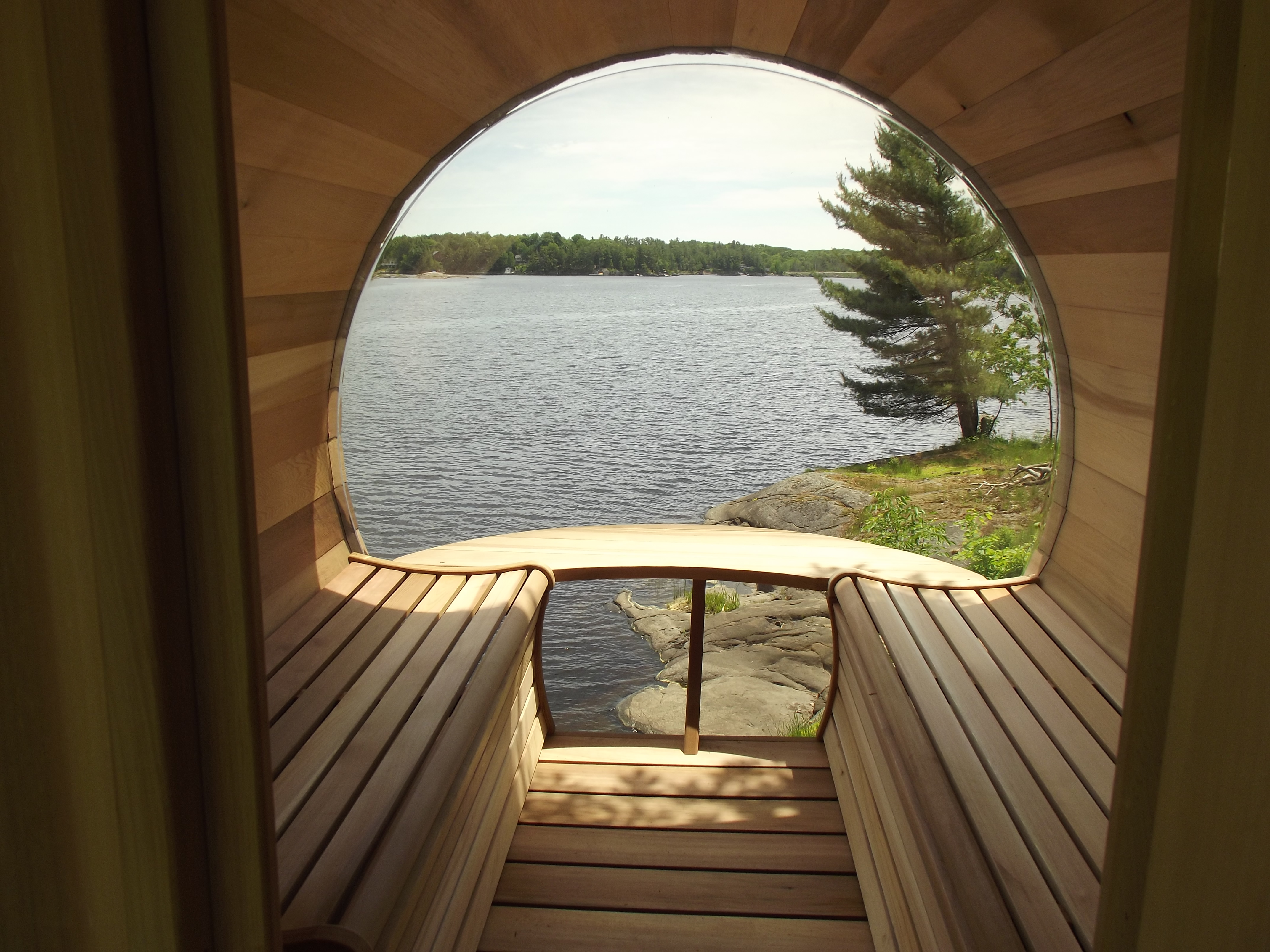 Home saunas make an exciting addition to any home or backyard. One of the biggest decisions when it comes to purchasing a home sauna is whether or not you want to install an indoor or outdoor sauna. Thanks to sauna material kits, outdoor saunas are easier than ever to purchase and install in your home or cottage backyard. So, how do you pick the perfect outdoor sauna? In this blog post, we have provided an outline of the most popular outdoor sauna models available through SaunaFin.
Barrel Sauna
Evoking the traditional outdoor saunas of Scandinavia, the barrel sauna is constructed with clear, Western Red Cedar. As the name implies, it is shaped like a barrel to facilitate easy heating of the interior space. Models are available in a variety of sizes and styles, including options to add outdoor cooling seating and/or a change room. This provides a great addition to your backyard pool or cottage lake.
Panoramic Sauna
A panoramic view sauna is a fantastic upgrade from the basic barrel sauna design. It features an acrylic bubble back to give bathers a stunning view of your home or cottage backyard. Many of these models are available in large sizes and seat upwards of twelve people! The panoramic sauna is a great choice for anyone interested in entertaining or simply admiring the view.
Outdoor Cabin Sauna
A cabin sauna model is one of the easiest outdoor saunas to construct. It features a classic sauna design and tiered seating to allow for stratified heating. Available in clear, Western red cedar, the cabin sauna can be upgraded to include large windows to allow plenty of natural light to enter during your sauna sessions. A great introductory sauna model for any homeowner looking to elevate their space.
Pod Sauna
The pod sauna features a unique, rain drop design. Similar to the outdoor cabin sauna, the pod saunas can be upgraded to include tiered benches to allow bathers to access multiple levels of heat. The pod design is easily amenable to an outdoor porch and seating. No matter what your sauna vision, the pod design can be customized to meet your individual needs.
Luna Sauna
The Luna is a truly modern outdoor sauna model. It features gently rounded corners and floor to ceiling windows to facilitate stunning views and natural light. The sauna model is constructed with clear, Western red cedar and is definitely a keeper!
Outdoors Saunas With SaunaFin
At SaunaFin, our range of outdoor saunas can be fully customized to meet every individual need. From heaters, to seating, to windows, every aspect of your new sauna can be designed to reflect your personal style. All our sauna models are constructed with sturdy and stunning Western red cedar. Our sauna material kits conveniently package everything you will need to construct your sauna in your home or cottage backyard. For more information on any of our outdoor saunas, contact the SaunaFin team today at 905-738-4017.